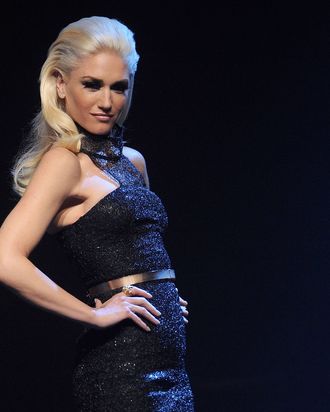 Photo: Francois Durand/2011 Getty Images
This week we received an anonymous tip about Gwen Stefani wrongly claiming design credit for a dress she wore to an amfAR gala that was supposedly designed by Michael Angel. When we contacted Michael Angel, a rep explained that he was wrongly billed as the stylist of the look in question. The dress, this person said, was not designed by Stefani and L.A.M.B., as had been publicized, but Angel. But as soon as the story went up, things changed: After the initial statement, Michael Angel's studio declined to comment further, as they had "been advised not to." Yesterday afternoon, however, they released a couple of just slightly different statements from Michael himself to The Cut, the last and most official of which reads:

Earlier this week a former employee from my camp spoke to the press without having full knowledge of the collaboration between Gwen Stefani, L.A.M.B., and me. I strongly want to reassure everyone that the dress was designed by Gwen Stefani for L.A.M.B. to wear and be auctioned off at the amfAR gala. I'm disappointed that the focus has shifted away from what Gwen and I originally intended, which was to create a custom outfit for a great cause. We both were thrilled with the outcome and enjoyed the process. I have nothing but respect for her and look forward to working with her on more projects in the future.I can assure you that this is my only comment on this matter and any other quotations or statements written on my behalf are false.
Related: Gwen Stefani's amfAR Gala Dress Was Apparently Not a L.A.M.B. Design After All