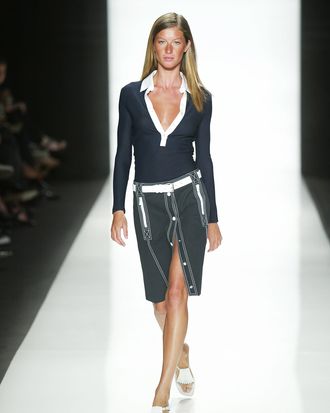 Photo: ?DAN AND CORINA LECCA/?DAN & CORINA LECCA
Whether he's making clothes or talking about making clothes, Michael Kors is an unfailing crowd-pleaser. A room full of what looked like some of his best New York customers gathered at the Doubles Club on the Upper East Side this week to hear him chat with F.I.T.'s Valerie Steele at a lunch held by the school's Couture Council. When the picked-at crab salad was whisked away, and many of the subsequent sorbet cups declined, Michael took the microphone. "Oh, now I have to be amusing!" he quipped, to laughter. The designer, who is celebrating his 30th year in business and just opened a store at 133 Fifth Avenue, discussed everything from dropping out of F.I.T., to his teenage penchant for leg warmers, to the daunting task of overseeing the megabusiness his name has become, to Project Runway. Read highlights of his talk below, and see some of Michael's personal career highlights chosen exclusively for the Cut from the past 30 years in the slideshow.
When Michael attended F.I.T., he wanted a job working in a clothing store. Bergdorf Goodman and Henri Bendel wouldn't hire him, but the eccentric Lothar's did.
I think both [Bergdorf and Bendel] at the time said no, we're not hiring freelance, part-time, 18-year-old kids in leg warmers. (Yes, I wore leg warmers, yes, long hair, looked like Peter Frampton, signed autographs, "love, Peter Frampton"). There was a store on 57th Street and Fifth Avenue called Lothar's. And Lothar's sold tie-dye, French, skintight, very Brigitte Bardot, Saint Tropez jeans that I think at the time were $130 for a pair of jeans, which everyone thought was insane. I walked into the store actually thinking, You know, I didn't get a job, but maybe I could buy some pants. Of course, when I was in the store I realized they were $130 and I don't have $130 and I started talking to one of the sales girls and she said, we're actually looking for part-time help. And she looked at me and said, you know you get a discount in the store and you get a free outfit, so I was like, I'M HERE.
Keeping up with the fashion cycle is more than a full-time job.
The cycle is crazy. Before we did Céline, I'd be like, "God I'm so busy." And I've realized I wasn't busy at all! Starting to go to Paris, and having to do the two shows each season, it's like an athlete going into training. As designer, you have to have endurance. It's also no longer American designers design for America, and French designers design for the French market. I do four collections on Michael Kors collection, on Michael Michael Kors we ship something new every month, we have three shoe collections, two handbag collections, men's which is monthly, watches four times a year, and I'm doing all of it and I'm on top of it.