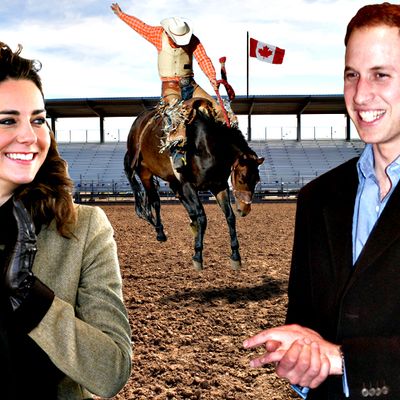 Kate and William hamming it up at the Canadian rodeo.
Photo: Christopher P. Halloran/2010 Christopher P. Halloran
On June 30 Duchess Kate and Prince William begin a spectacular tour of Canada — eight cities in nine days! They'll meet the people and attend a rodeo; she'll wear clothes, he'll fly a helicopter; she'll wear more clothes, he'll continue being less interesting than those clothes. Sources tell the press that Kate will need approximately 40 outfits on this journey to "come to know Canada even better." (Kate, the royal-wedding website adds, has never been to Canada.) The couple, in their short tradition of modesty, plan to travel with as small an entourage as possible, as though to make people forget about the reports of them extravagantly renting out an entire island resort complex for their honeymoon. This clique won't include a stylist for Kate since, word is, she wants to pick out all her outfits herself, which sounds like an unenviable amount of work.
From July 8 through 10, Kate and William will tour L.A. "and surrounding areas." Kate, we swear, no one will hate you if you go into the Yves Saint Laurent or Margiela store and indulge in something fabulous to wear. If her aim is to get to know the real L.A. even better, after all …
Kate Middleton's Royal Reinvention [ABC News]