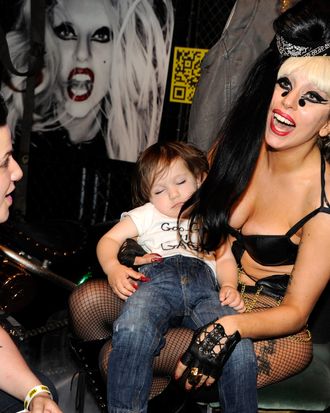 Photo: Kevin Mazur/2011 Kevin Mazur
Being normal isn't Lady Gaga's "thing." She speaks in a completely bizarre fashion, makes herself look completely bizarre at all times, and probably walks completely bizarrely after days in the torture chambers she calls her shoes. Her promotional efforts leading up to the Born This Way album release have also succeeded in making her seem like a complete weirdo: We saw CGI stuff emanate from her vagina in the "Born This Way" video; she was carried into the Grammys in a Hussein Chalyan "vessel"; she wore fake bones on her cheeks for weeks; and she ate paper on David Letterman last night. So it's nice that, at a promotional event at Best Buy this week, she stepped outside her world and did something normal: hold a baby. Apparently the kid is 18-months-old and named Luke. Luke's mom tells Crushable that in fact this momentous occasion was well deserved:
He's been a Gaga fan since he was a newborn. He hated car rides and would scream so hard, but become instantly silent when I would play "Bad Romance." I would have to put the song on repeat the whole ride! Now, even at the young age of 18 months, it amazes me how he walks around the house singing lyrics from all three of her albums. I played Born this Way (which is awesome) in the car today and he was in his seat singing away!
A Chat with the Mother of Sleeping Lady Gaga Baby [Crushable]