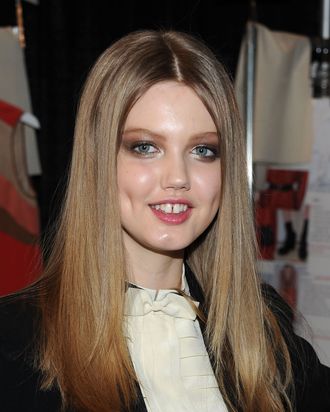 Photo: Jason Kempin/2011 Getty Images
Like many successful models, Lindsey Wixson has traumatizing memories of people telling her she was ugly before everyone thought she was gorgeous. Of course, she was tall and skinny in her middle-school years and has all the usual "I was so gawky and awkward!" stories, but her now-celebrated gap tooth was also an issue. She tells British Vogue:

I was actually always really self-conscious about my gap. In middle school, this group of girls were always trying to beat me up — they called my gap a parking lot. It was a really awkward time. I remember first mentioning to the girls I used to sit next to at lunch that I was looking for a model agent, and then the next week they came in with a list of things they didn't like about me. I felt skinny and tall — it was the worst time of my life. But I don't feel like that anymore. Modelling has really helped build my confidence.
Southern Belle [Vogue UK]
Related: Video: Going to Prom in Wichita, Kansas, With Lindsey Wixson