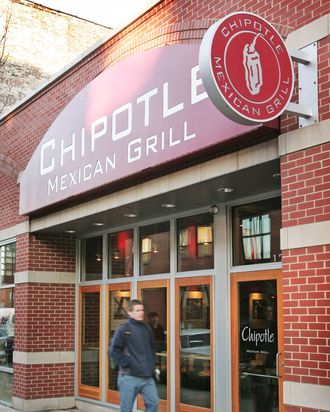 Photo: Scott Olson/2006 Getty Images
Loomstate, Rogan Gregory and Scott Mackinlay Hahn's sustainable fashion label made with organic fabrics, has a seemingly random new project — designing uniforms for the Chipotle Mexican Grills chain. "When I heard Chipotle wanted to talk to us, I was like, 'What? Why?'" Gregory said. Now they're working with Chipotle founder Steve Ells to "create a narrative around food with integrity" and emphasize the "interconnectedness between food and fashion," Hahn told us last night at the company's Earth Day celebration.
This might be ironic, considering fashion's weird relationship with food, but for Loomstate it makes sense, since they share Chipotle's commitment to sustainability and using organic ingredients wherever possible. The uniforms, which the designers say are currently being tested in a Chelsea branch at 18th Street and Eighth Avenue, are plain in the front with graphics on the back. "The aesthetic is what we call 'passionate rambling,'" Gregory said of the graphics, which consist of "language and words that will get people thinking, without screaming at them, about what Chipotle is all about and the ingredients they use." The Loomstate designs will be cycled into all of the chain's locations gradually over a period of months, as new uniforms are needed.