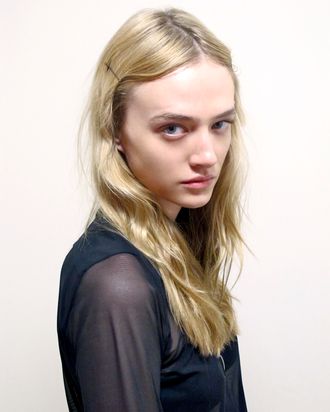 "Fuck heels, they weigh my bag down," 22-year-old model Cailin Hill said as she walked into our offices recently. Wearing a coffee-stained white tee and a beat-up pair of Doc Martens, the Ontario native spoke remarkably candidly about her awkward teen years and boldly expressed her desire to work with controversial photographer Terry Richardson. Former author of the blog Model Burn Book, Hill recently modeled for Calvin Klein Jeans' fall 2011 collection, shot for Marie Claire, and has enjoyed face time with some of the industry's top photographers and casting agents. Look for her on the major runways this upcoming show season.
What were you like as a kid?
Oh man, I was this super awkward arty girl. My dad was an art teacher, so I spent a lot of time alone, drawing in these sketchbooks he would bring home. I spent a great deal of time rescuing injured birds and doing all those things that little misfit children do. I never had many friends, but I managed to make a couple of very close friends. I guess haven't changed much [laughs].
Explore other rising stars (plus all the big names) in our extensive Model Manual, featuring runway pics, glamorous editorials, model bios, career timelines, and more.