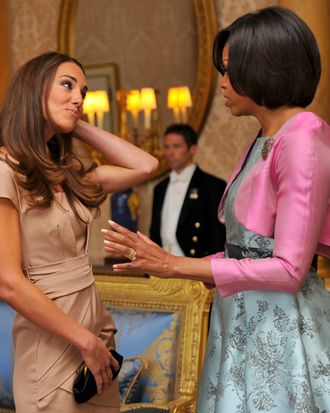 Photo: WPA Pool/2011 Getty Images
Friends, we at The Cut have spent what feels like countless hours documenting our First Lady Michelle Obama's every photographed outfit. Additionally and more recently, in our tireless efforts to bring you photos of the women who wear the outfits you most want to look at, we have begun to put forth the same effort in documenting each of Kate Middleton's photographed ensembles, in similar ever-expanding, easily accessible fashion. Just as the royal-wedding mania begins to die down, Kate — the duchess — returns from her honeymoon in the Seychelles and her first photographed appearance is not buying six packs of plastic-wrapped white T-shirts, leading the world to merely admire her tan and speculate over whether she and William both wear these in their servant-free farm house while they do their own dishes. Nope, she did what may as well be exactly the opposite, slipping into a slim-cut, very flattering $340 Reiss dress for a meeting with Michelle Obama. And so, our two beloved look-book subjects collide, in epic fashion, Kate nervously flipping her hair while Michelle Obama, wearing a Barbara Tfank dress, looks down into her eyes and tells her — what?
See more photos of Michelle Obama in our ever-expanding Michelle Obama Look Book.
See more photos of Kate Middleton in our ever-expanding Kate Middleton Look Book.