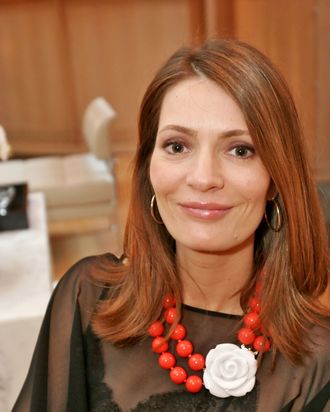 Photo: Bill Olive/2005 Bill Olive
Vogue contributing editor Plum Sykes is much goofier than you'd expect of someone so immaculately composed. Over breakfast last week, in between large bites of her chocolate croissant, she did impressions of the following people, complete with funny voices: Detmar Blow, her 5-year-old daughter Ursula, Fox News' Shepard Smith, and her husband Toby Rowland. While it's no surprise that she's the kind of woman that people love to hate — she's beautiful (in her 20s, she modeled for Alexander McQueen), smart (she graduated from Oxford), and successful (she wrote the best-selling novels Bergdorf Blondes and Debutante Divorcees) — it's impossible not to contract her girlish enthusiasm for everything from her new Rag & Bone jeans to her $20 velour bathrobe. While she cut back on writing projects to have her second child last year, she proclaims herself "back to work now," and has just put out a short autobiographical piece for Amazon, titled Oxford Girl, about her first year in college. We caught up with her last week about her distaste for "chick lit," her work for Vogue, and Kate Middleton's wedding dress, which has earned comparisons to her own.
You're probably not one of those types to write in your pajamas.
To write, I probably wear what I'm wearing now. My Rag & Bone jeans. Although the other day I interviewed Tom Ford, and I came back and was like, "I just need to relax." So I put my dressing gown on before went up to my desk, and I was really productive. It was like, a really fluffy velour dressing gown from Marks & Spencer. My husband's like, "That is made of completely synthetic material, and it costs $20." And I love it!