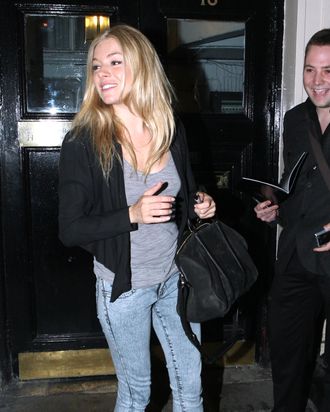 Sienna Miller.
Photo: Weir Photos / Splash News/? www.splashnews.com
Justifying the core intent of her publication, People StyleWatch, editor Susan Kaufman presented the results of a study done by the magazine of 2,000 women ages 18 to 49 to gauge how celebrity style influences their own dressing habits. Three-quarters of women admitted to getting ideas of how to dress from celebrities, while two-thirds said they get ideas of how to dress from celebrities over runway models. Three-quarters of the women also said they would spend more for something if they see a celebrity wearing that item. This is especially true for jeans, since expensive jeans (say, $250) are never going to be as expensive as designer handbags (say, $1,400). "They will pay more for premium denim if they see a celebrity wearing it," Kaufman said. But the female psyche's connection to denim goes deeper than that, it seems:
"Some 48 percent of women said they are more excited getting jeans on sale than having sex," she said.

Goes to show how much bad sex is out there.