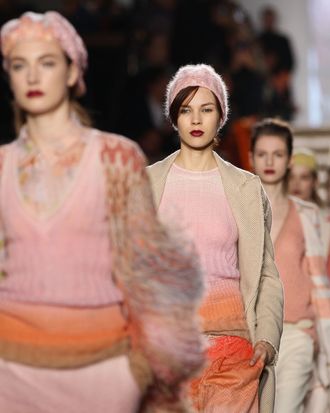 Photo: Vittorio Zunino Celotto/2011 Getty Images
Since Target discovered that photos of their designer collaboration lines land on this thing you look at all day called the Internet before the company has intended to make them appear on the Internet, the wares are guarded with greater care than nuclear secrets when the press is allowed to preview them personally. Racked was forbidden from taking iPhone snaps, even just for reference, at the Missoni preview today, or from revealing many details about the line, but! Target will allow you, at this point in time, to know this:
We have leeway to tell you that the $599.99 Missoni for Target item is an omg patio set. Yes. Missoni furniture. Are you dying yet? It's amazing. Oh, and there are bikes. Missoni bikes!

The line launches September 13. Try to remember all summer how great the patio furniture should be.
TOP SECRET: The Details on the Missoni x Target Collaboration [Racked]
Related: Target's Collaboration With Missoni Will Be Its Biggest Yet