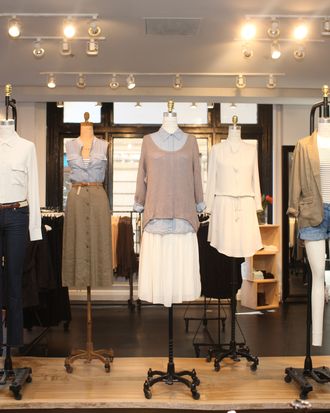 After presenting a limited collection of spring styles in an off-the-beaten-path second-floor space earlier this year, Canadian fashion brand Aritzia is finally throwing open the doors to a proper two-story flagship this afternoon. The store houses nine in-house brands, each with a different feel — from Wilfred Free's casual basics to TNA's Northwest-inspired prints to T.Babaton's professionalwear — as well as denim from brands like Citizens of Humanity, J.Brand, Paige, Hudson, and more. Though it's tempting to compare the selection to nearby fast-fashion brands like Topshop and H&M, the quality is considerably higher, with silk, wool, and cashmere fabrics sourced from Japan and Italy.
Prices range from $30 for a nautical-striped cotton tank to $300 for a silk sheath dress with a lace overlay. The first floor décor has a decidedly New Age vibe, from crystal centerpieces to the whimsical art (a flying pelican painted among the racks, a giant wooden peace-sign sculpture there …). There's a large assortment of cotton tanks, spring jackets, and tees. We recommend starting on the second floor, where the selection seems slightly higher-end. There, you'll find silk midi-skirts for $145; summer dresses for $165; printed silk tanks for around $100; wool, jersey, or silk-crepe blazers for $85 to $300; and slouchy shorts for $75. Click ahead for a look inside.
Aritzia, 524 Broadway, nr. Spring St. (212-965-2188); M–S (10–8), Su (11–6).