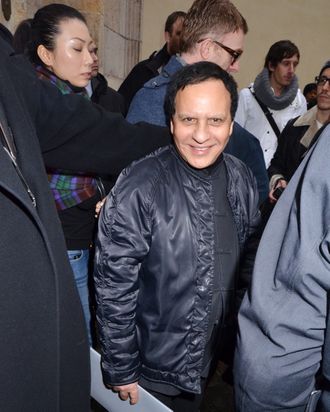 Azzedine Alaïa.
Photo: Foc Kan/2011 FocKan
During Fashion Week, it felt like almost every fashion writer with a blog or Twitter account or ticket to the Katy Perry concert had some authority from "on high" (read: probably not at all on high) about who would replace John Galliano at Christian Dior. Azzedine Alaïa was not one of the names cited by these "sources" and reported by these bloggers and tweeters at the time, but the Financial Times says the designer told the paper himself that he turned down Galliano's job at Dior. Vanessa Friedman writes:

Mr Alaia wasn't interested. Flattered, but not about to pursue. The story of what happened with John was a sad story, he said when I asked him, and he didn't want to be part of the next chapter. And that's even before you got to the other stuff.

The sheer fact that the Dior leadership was thinking this way does, however, make me think the field may be more open than the fashion world suspects.
Guess who got called about the Dior job? [Material World/FT]