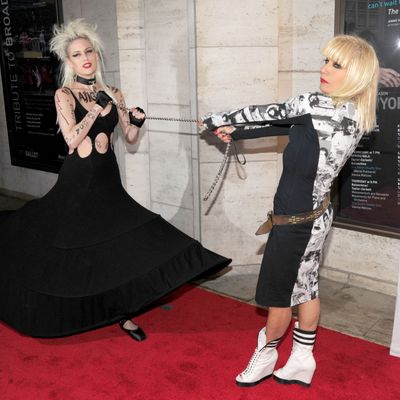 Stephanie and Betsey at the ballet.
Photo: Amber De Vos/@Patrick McMullan
Betsey Johnson's assistant is Stephanie Wagenman, a 28-year-old Austin native and ex-ballerina. She interned at Betsey Johnson for two years while she was going to design school and teaching ballet before Betsey offered her the assistant job. For a lengthy questionnaire for Daily Front Row's feature where assistants talk about making restaurant reservations and GNC runs for their top New York fashion-people bosses, Wagenman posed reclined on a glass table wearing a loud outfit consisting of patterned gray leggings with a matching poufy-shouldered jacket and sky-high platform stiletto pumps. But wearing clothes is a big part of her job; when she's not doing grunty work like organizing Betsey's sketches or posing in clothes for Betsey's website, Betsey is trying to throw clothes on her

I am wearing a slip right now! I have great Betsey clothes in my closet at home, but it's just pointless to put much effort into what I show up in. While I'm here, I change at least 50 times a day. Around the office, they call me Mowgli, like the character in The Jungle Book, because I run around in my underwear between fittings. I don't even care—I'm like the least modest person in the world.
There are times when the job gets less fun and more tedious, such as when technology must be used.
Assistant Files, Vol. 17: Stephanie Wagenman, Betsey Johnson [DFR]