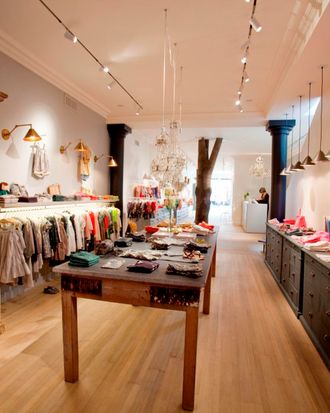 Bonpoint, the St. Germain-based source for Liberty-print rompers, lace-collared blouses, and cashmere cardigans in the prettiest pastels, opened its biggest New York store early this month. The women who buy their clothes at neighboring boutiques (Chloé, Carolina Herrera) have long chosen to outfit their children in Bonpoint; the high-quality, elegant clothing is like something from a storybook.
The shop itself is inspired by the company's left bank flagship (or "maison"), and it's an ode to a certain refinement and good taste: soothing gray walls, crystal chandeliers, and antique, Provencal vitrines. There's a fairy-tale element to everything: A tree winds its way through the floors, and a fluffy cloud is full of sparkles and hanging above a stack of the softest onesies in the world.
Upstairs is a shoe salon, a small section of boys clothes, and a room for the "YAM" collection, which is predominantly for teenagers, but also for thin women whose taste tends towards the nostalgic.
Maison Bonpoint, 805 Madison Ave., nr. 68th St.; 212-879-0900.