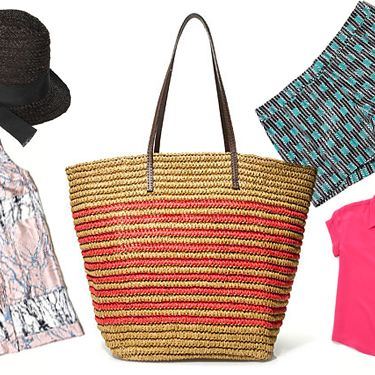 Clockwise from left: Black Fedora by Hat Attack Featuring Tuleste Market, Striped Farmers' Market Tote by J.Crew, Geometric Shorts by Gap, Paolo Top by Rebecca Minkoff, and Vanishing Splice Shirt Dress by ZIMMERMANN
While this week has been pleasantly warm, last week's brush with sultry temperatures was a reminder that the city becomes a sticky, sweltering mess by the end of June. While sunny weather is a great excuse for some to go nearly naked, wearing clothes is generally encouraged. To keep you appropriately dressed even when it feels like your insides are melting, our latest Shop-A-Matic has 130 ideas on what to wear when it feels oppressively hot outside. Hide from the sun with lightweight hats, throw on breezy dresses, and keep legs bare in colorful shorts. Even if you get them sweaty and sunscreen-smeared, you'll look much cooler than you would otherwise.
Vanishing Splice Shirt Dress by ZIMMERMANN
Price: $450
Why We Like It: While better known for their sexy swimwear, the Australian brand also includes futuristic printed separates that are beach-inspired yet polished. Toss this over a bikini as a cover-up or pair with slim cropped trousers and high heels for evenings spent outdoors.