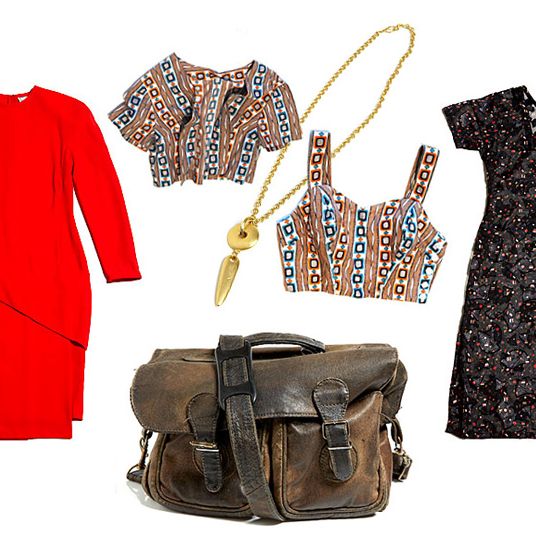 Clockwise from left: Gianni Versace Paneled Dress, Geometric Two-Piece Tank and Bolero Set, Avon Geo Pendant, Metallic Sheer Fan Dress, and Mini Distressed Brown Briefcase.
With retailers in the midst of summer markdowns and nearly every label throwing a sample sale, you can still find something unique without sifting through the same five trends on the sale racks: old vintage things! In our latest Shop-A-Matic we scoured some of the city's best vintage shops to showcase some of their latest wares from their ever-so-obscure sources. Since it's the middle of summer, lightweight dresses from the seventies and eighties abound, but many stores are already thinking of fall and offering heavier jackets and thick wool dresses. As with all great vintage finds, the pieces in this Shop-A-Matic are all one-of-a-kind and may be gone before you get a chance to hit the store, so buyer be forewarned.
Mini Distressed Brown Briefcase
Price: $184
Why We Like It: Originally made in the thirties, the slouchy and perfectly worn messenger-style sling is reminiscent of popular contemporary styles without being instantly recognizable. And despite being nearly a century old, the leather is in impeccable condition.