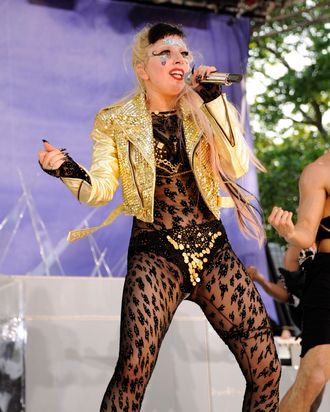 Each year the Council of Fashion Designers of America gives out a few honorary awards. One of them honors a fashion editor or journalist, another honors a designer, and another honors a "fashion icon." Last year, the model Iman won the fashion icon prize, but before her, the CFDA hadn't handed one out since 2005, when Kate Moss won it. Her predecessors include Sarah Jessica Parker ('04), Nicole Kidman ('03), and C.Z. Guest ('02). Those are the only fashion icon award recipients on record on the CFDA website, which lists all CFDA Award winners since 1981. At this year's awards being handed out tonight, we get a fashion icon prize — or rather, Lady Gaga does.
Forbes.com wonders, "Does Lady Gaga Deserve The CFDA Fashion Icon Award?" It's a natural question for an artist who has only been famous for a few years, and Forbes.com offers many more questions they don't quite have the answer to:



Does Lady Gaga merit the honor of being in the company of C.Z. Guest? Does she create trends and inspire women to dress like her in the same way that they copy every one of Sarah Jessica Parker's outfits? Does she have the power to move and sell fashion merchandise as Kate Moss?
Does Lady Gaga Deserve The CFDA Fashion Icon Award? [Forbes.com]