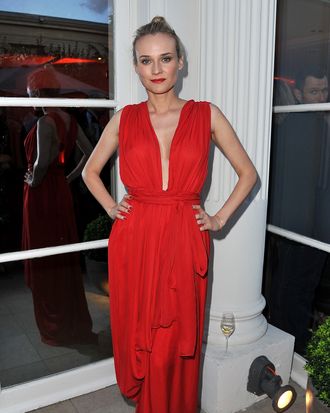 Photo: Pascal Le Segretain/2011 Getty Images
Usually, matching your makeup to your outfit is something to avoid between the ages of nine and seventy, but Diane Kruger did it last night at the amfAR Inspiration Gala in Paris. She wore a cherry-red Grecian-style dress with lots of double-sided tape, slicked-up hair, and scarlet lipstick. The dress dragged a bit at the bottom so you can't see her shoes.
Do you like the matching makeup/dress combo? Should she have amped up the outfit with more jewelry, Troy-style?