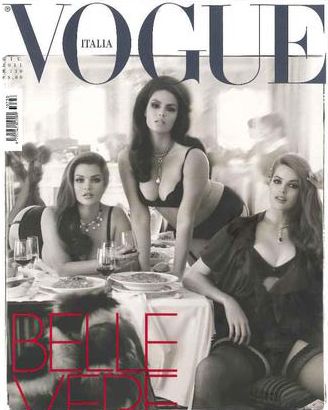 On the June issue of Italian Vogue, you'll see something we don't often see on fashion magazine covers: flesh. Breasts spill out of bras, hips bulge out of panties, and the angular bony figures we are so used to seeing are replaced with the softness of women who have unapologetically voluptuous bodies. This morning Italian Vogue editor Franca Sozzani called us from Italy to discuss this unusual issue. Refuting the criticism that the "Curvy" channel on the Italian Vogue website was a gimmick, she explained that she doesn't expect this issue to change the world, or for super-skinny models to disappear overnight, but she hopes at the least that it gets the industry to start asking questions about what defines beauty. And she's right about one thing: For change to happen, someone has to actually provoke it.
Why did you decide to put three plus-size models on the cover?
We were talking about doing, let's say, a normal person — not only models who are skinny, the normal prototype of beauty of today. It was up in the air for a bit, but now we did it to attract the attention that it doesn't exist, only one kind of beauty, but that every woman can be beautiful, and especially curvy women can be beautiful and very sexy. If you think today of Elizabeth Taylor or Sophia Loren, they could be in the curvy issue. That shows you how it's changed, the idea of the body for the woman.
Related: The Rise of the Plus-Size Model