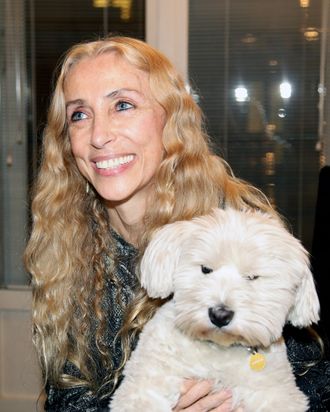 Sadly this adorable dog was not at the event.
Photo: Vittorio Zunino Celotto/2010 Getty Images
At Harvey Nichols in London this week, Italian Vogue editor Franca Sozzani headlined a daylong "Vogue Experience" event, where part of the store's fourth floor was transformed to look like her magazine's office space (to make her feel at home, no doubt). It served as a networking for bright and starry-eyed young folk hoping to jump-start careers in the fashion industry, with Sozzani, LOVE editor Katie Grand, designers Christopher Kane, Philip Treacy, and Manolo Blahnik, and journalists Lisa Armstrong and Sarah Mower offering insight and advice, viewing portfolios, and generally just being fawned over. Between counseling the event's many attendees, Sozzani took some time to chat with us about her magazine's partnership with America's Next Top Model. "When I was there — to see these girls, they all cry when one is the winner. And they all go to the winner and they kiss her and they all cry, and I think, 'I am not sure they are happy for her.' But at the same time I know they are happy they have made it that far all together, so it makes me laugh and not cry at the least," said Sozzani, who guest judges each season and gives the winner the cover of Italian Vogue's beauty supplement and a spread in the regular issue. But she's right: It takes all of five minutes watching Top Model to know that most of the girls are about three steps away from maiming each other with curling irons — it's certainly not about collective happiness.