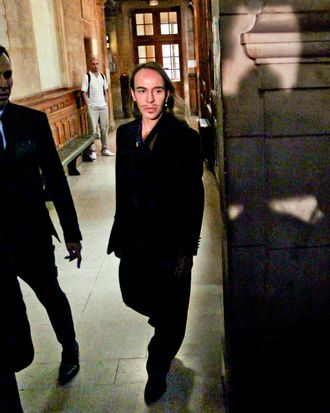 Galliano arriving at court today.
Photo: JACQUES DEMARTHON/2011 AFP
John Galliano arrived at court in Paris today, where he is being tried for allegedly making anti-Semitic remarks — a criminal offense in France — to three people. Two are a couple, museum curator Geraldine Bloch and her boyfriend, Philippe Virgitti, a receptionist, who claim Galliano called them "dirty Jew" and "Asian bastard" respectively, while they were having cocktails at a bar near Galliano's apartment. The third plaintiff is Fatiha Oummedour, a 47-year-old French woman who says he verbally attacked her in the same bar, La Perle, in October. The hearing should conclude this afternoon, and a ruling is due in September. The maximum sentence is six months in jail and a $34,000 fine.

"One obvious thing is that John Galliano was ill," his lawyer Aurelien Hamelle said yesterday (Tues).

"He had a triple addiction to alcohol, benzodiazepine (Valium) and sleeping pills … The combined effect of these drugs is a state of complete and utter abandon."

Pressure to perform led him to drink heavily and take Valium pills "like candy" as well as sleeping pills regularly, Miss Hamelle said.

"When he was in that state he had no way of knowing or remembering what he said."
Update 4:28: With a final apology from Galliano, the trial finally comes to a close in Paris. Court will reconvene on September 8, when a verdict is expected.