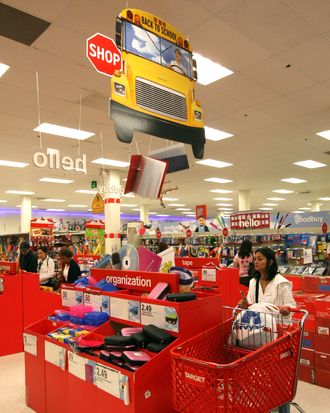 An inviting in-store display. Hmmm.
Photo: Justin Sullivan/2008 Getty Images
With the excitement of its forthcoming Missoni line in full swing — or the depths of short-term memories as we wait for the ultrasecret images of the full line to come out — The Wall Street Journal dares to report that "some retail experts [are] questioning whether the cheap-chic discounter is losing its cachet." As the retailer reports meager 2 percent growth in sales in stores open at least a year for the first quarter, and 2.8 percent growth in those stores for the month of May, shares are trading 22 percent lower than a year ago. Meanwhile today, four groups of shareholders protested the annual shareholders meeting in Pittsburgh, unhappy with the company's use of shareholder money to make political donations (such as those that caused Lady Gaga to pull out of her deal with the chain).
Some analysts and Target's CEO say the stores are merely being stifled by the tough economic climate.