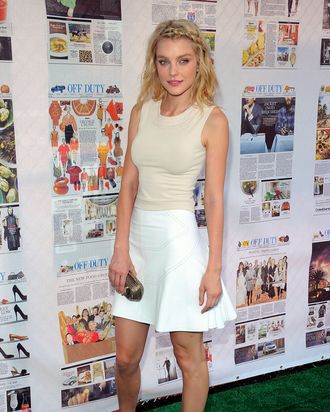 Jessica Stam.
Photo: Jemal Countess/2011 Getty Images
Jessica Stam may be a stunning, well-to-do model, with a perfect figure and hundreds of runway shows, ad campaigns, and editorials to her name — not to mention her totally fabulous, jealousy-inducing purple apartment. But she struggles, just like you and I struggle, with the great philosophical questions of modern life. She wonders what we're missing by choosing to interact with our cell phones instead of other flesh-and-blood people.

"Being present" at the dinner table is a crucial moment in everyday life as most of us are staring into a screen, or a mobile phone or a camera for most of our awake hours. Next time you are in a meeting, or sitting down to dinner — politely request that everyone turn off their phones and put them in the middle of the table in a big bowl.
Yes, the damn cameras in our awake hours are such a problem.
The Lazy Susan Cell Phone Experiment [HuffPo]