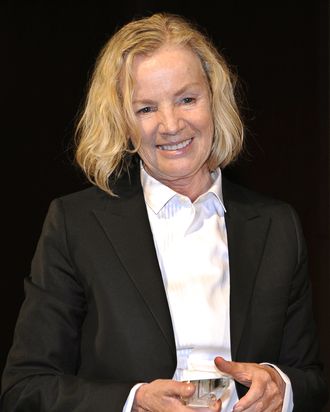 Photo: KAZUHIRO NOGI/2010 AFP
After two years of causing frostbite- or heatstroke-inducing lines that snake out of Uniqlo stores whenever the collection drops, Jil Sander has had enough of her +J line. The fall 2011 capsule collection will be her last, Uniqlo announced via press release today:

With the recent completion of the design of the…fall and winter collection, Ms. Sander and [Uniqlo] agreed that they had fully explored the possibilities of their creative collaboration and accomplished what they had set out to do. Consequently, the two parties have decided to wrap up their design consulting agreement with this collection.
When Sander initially signed a contract with Uniqlo in 2009, she was given a creative director-type role and charged with overseeing all of Uniqlo's other product lines, but she wound up focusing her energies on the +J collections instead. Her role became more clearly defined when she announced last year that she'd continue her +J lines indefinitely. Notoriously difficult to worth with, Sander seems to have had a great relationship with Uniqlo, and there's no indication that the partnership is ending on sour terms.