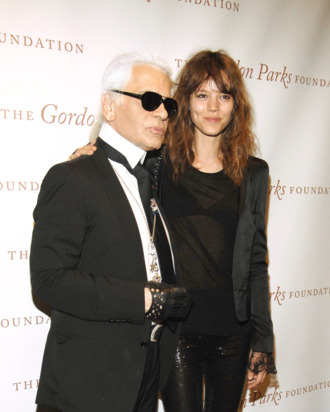 Last night, adding to the many feathers in his hat, Karl Lagerfeld received a Gordon Parks Foundation Award, which celebrates creativity. The fashion designer, photographer, filmmaker, and spokesmodel said he wasn't necessarily looking to diversify his résumé anymore at the moment. "I think what I can vaguely do okay, I've tried," the Kaiser told us. "So I better develop what I'm doing, work on it; if not, one can get distracted."
His recent projects include the fall 2011 Chanel campaign, famously styled by Carine Roitfeld, and shot by Lagerfeld in a photo booth. "It's about one woman who is transformed," he said, mysteriously. And apparently we at The Cut aren't the only people interested. "Everybody talked about this campaign and wants to see it," he said. "Apparently there's already a few images on the net. They were stolen; because we had shown nothing." He has no idea how the photos leaked.
Beha was part of Lagerfeld's entourage, along with Anna Mouglalis, Ingrid Sischy and Sandra Brant, Stephen Gan, Amanda Harlech, and, of course, hunky security detail Sebastien Jondeau. After the awards dinner, the whole gang shuffled out of Gotham Hall onto Broadway, piled into a black minibus, and drove off to parts unknown.