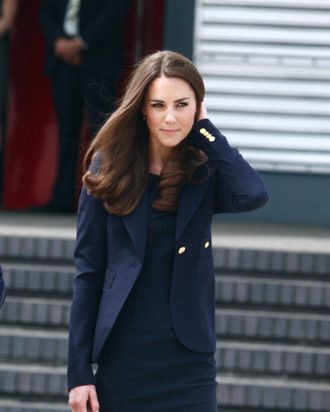 Photo: WPA Pool/2011 Getty Images
Something definitely happened to the state of Kate Middleton's wardrobe after she married into the royal family, because since that day — her famous grocery shopping aside, perhaps — she's looked extremely polished and chic. It's as though a hypnotist came into her princess chambers and completely obliterated her taste for cork wedges. That sartorial momentum only continued today when she boarded the Royal Canadian Air Force plane taking her (and Prince William, if you care about him and how he also wears outfits) to Canada today. She wore a navy shift dress with a matching blazer and stiletto pumps and carried a £895 ($1,433) Mulberry handbag. Your next highlight in this epically slow pre–Independence Day news cycle: What will she change into before she gets off the plane? Or will she be so modest as to not change at all?
Update: The dress is by Roland Mouret, and in a nice sartorial shout-out, the jacket is by Canadian label Smythe.
See many, many more photos of Kate Middleton — wearing clothes — in our ever-expanding Kate Middleton Look Book.
Earlier: What Kate Middleton Should Wear on Her First Tour Overseas As a Royal