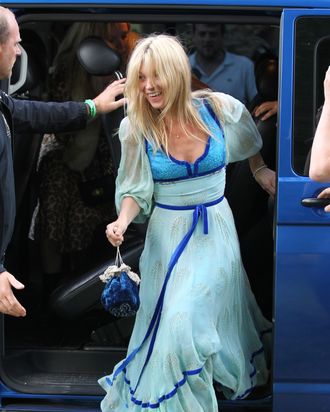 This is Kate getting out of the car to have drinks with her bridal party today. No, we don't know what's up with the dress. Do you?
Photo: Hennessy/Hammond/Splash News/? www.splashnews.com
John Galliano claimed in court last week that he has been unemployed since Christian Dior fired him, but as sources were saying at the time that might not be entirely true if he is designing Kate Moss's wedding dress. A "source close to the model" tells British Vogue Kate will in fact wear Galliano to her wedding, which is supposedly tomorrow (as with anything involving Moss, especially her getting married, we'll have a hard time believing it's true until it actually happens). As for the bridal party:



Her maid of honour — Trish Simonon, wife of Clash bassist Paul Simonon — will wear a beautiful Erdem creation, whilst Sadie Frost — whose daughter Iris is set to be a bridesmaid — will wear a dress by Christopher Beale.
So only one allegedly racist dress in the bunch.
Wedding Dress Confirmed [Vogue UK]