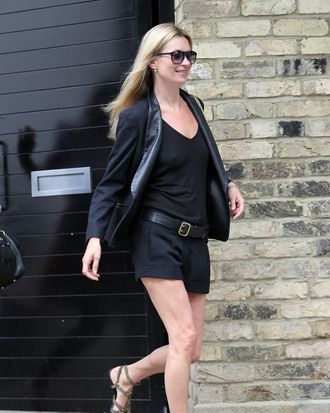 The blushing bride in "London" today.
Photo: Neil Mockford/2011 FilmMagic
This Fourth of July weekend, the story that British tabloids were born to report — and have in fact reported on erroneously plenty of times over the past twenty years — is happening: Kate Moss's wedding! It's rumored to be a three-day cesspool of music-festival-esque partying at Moss's country estate in Cotswolds, attended by lots of fabulous people wearing fabulous clothes and doing fabulous things. Mario Testino is already rumored to be shooting the whole thing for the cover story of September's American Vogue; Moss is said to be wearing a dress by disgraced designer John Galliano; Snoop Dogg is reportedly performing — which seems kind of weird but is a great choice if only because he's not prettier than the bride (also, hilarious). Below are some other unsubstantiated reports of what will happen at the summer's second-most-important celebrity wedding, behind Kate Middleton's, obviously — third-most-important if you are way more excited about the nuptials of princess-in-waiting Charlene Wittstock, which are also this weekend and are sure to be very pretty.
• Kate's guests will be fed food prepared by "two top chefs." In addition to sausage rolls and bread sticks, "she is going to be serving Keith Richards' shepherd's pie, Steve Tyler's thai curry and Primal Scream's Bobby Gillespie's sausage and mash," an unnamed source says. As for décor, this being HER DAY, Kate will put photos of herself everywhere. Presumably so that her guests will still feel pretty while they eat sausage and look at her pictures, "there will even be a dressing-up room, with a range of vintage Ozzy Clarke dresses for her mates to wear." Sounds great — until you get in there and realize you can't fit into anything. [Daily Telegraph]
• Her gift registry includes "14 crystal ashtrays which cost £240 each. She is also asking for a £6,600 silk rug, £5,000 cutlery service, £4,600 mirror, £4,750 cocktail set and crates of 2002 Louis Roederer Cristal champagne at £1,833 each." Well, she's going to need new stuff to replace everything that gets smashed by her smashed guests this weekend. Champagne doesn't reproduce on its own! [Sun UK]