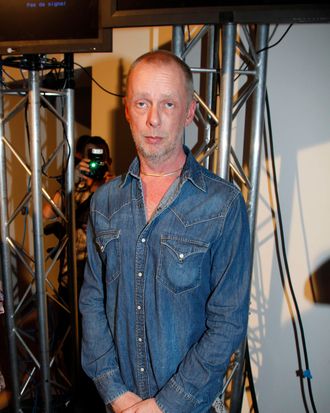 Bill Gaytten
Photo: Eric Ryan/2011 Eric Ryan
Bill Gaytten has been named creative director of John Galliano, following the departure of its namesake, who awaits the verdict of his public-defamation trial. For the role, Christian Dior CEO Sidney Toledano hand-picked Gaytten, who worked under Galliano for 23 years and took the final bow at the Galliano men's show on Friday in Paris. Reports WWD:

"It's the same job for me; I've been doing it for a long time," he demurred. "It was a bit different because John wasn't there."

Indeed, he confessed with a laugh: "I'm dying to know what he thinks!"
The appointment comes following New York Times critic Cathy Horyn's reports from LVMH sources that executives had been toying with the idea of reinstating John Galliano the man at John Galliano the label. However, at the Dior Homme show on Saturday, LVMH chief Bernard Arnault told Horyn that Galliano would definitely not return.

LVMH Chief Says Galliano Will Not Return [On the Runway/NYT]
Stepping Out Into the Spotlight [NYT]
Bill Gaytten Takes Bow for John Galliano Men's [WWD]