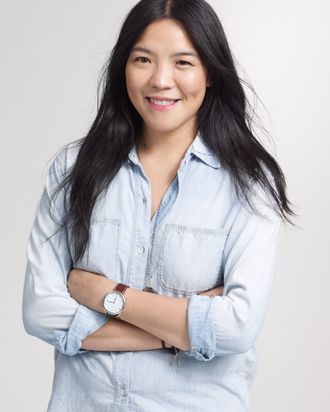 Kin Ying Lee has worked at J.Crew's sister brand Madewell since the brand relaunched in 2006. As head of design, Lee helped transform the 74-year-old label's clothes from utilitarian workwear to the wildly popular vintage preppy luxe aesthetic they embody today. As part of its expansion plan, the brand recently opened its second outpost in New York. With the simple goal of providing a girl with the perfect pair of jeans — versatile enough for both night and day — Lee and her team appreciate the importance of individualism and designing for different body types. The denim-obsessed Hong Kong native shared her thoughts with us on street style, shopping in New York, and why her children have shunned her beloved collection of vintage jeans.
How did you break into the fashion industry?
Even at the early stage of 4 or 5 I have a lot of stories from my family telling me that I used to just lie there and sketch girls with clothes. I started fashion design at Kingston in London. England's great — the schools are very creative there, and I think the fashion schools there are really great. I was very lucky to be able to get into Kingston, which is a really strong school and basically enabled me to hone into my design sense.
Do your children ever inspire what you do at Madewell?
Always. I realized, having kids, that comfort is such a huge part of happiness. I've saved a lot of vintage denim for them, like I've come across a lot of vintage shops, and I've bought these amazing cool jeans, thinking that my kids will be trendy little kids with amazing vintage jeans — they do not want anything to do with it. All they want is comfort — leggings, tunic tops. So what I've learned is that you cannot force any kind of style on anyone unless they're comfortable with it. It's about, again, going back to individualism. Comfort is a huge piece of fashion that we need to address. Madewell is the place where I try to make sure that you can kind of work and live in your clothes, and it doesn't feel so proper, like you have to be a certain way to wear them.