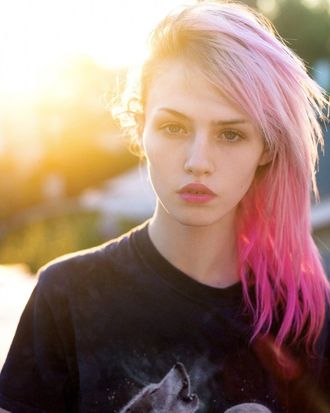 Rising star Charlotte Free is known for her glorious Manic Panic hair. Discovered by a photographer at the local arcade last year, the Los Angeles native is currently signed with IMG Models. Even with the pink hair and being only five-foot-seven, which is pretty short for a runway model, she debuted at Richard Chai's fall 2011 show in New York, cast by the eagle-eyed Michelle Lee at KCD. Free was a natural fit on London's more eccentric runways, too, walking for Topshop Unique, House of Holland, and Vivenne Westwood. And she's already been shot by Craig McDean and styled by Marie Amélie Sauvé for Interview. We chatted with Free on the phone about modeling, her hair, cats, and more.
Where are you now?
Right now I am in my room with my cats.
Cool, so, tell us a little about your childhood.
When I was a kid, I was forever in the streets all day, all night playing basketball and riding bikes. I loved playing with squirt guns. Unlike kids these days today who just stay indoors and make play dates to play … video games.
Explore other rising stars (plus all the big names) in our extensive Model Manual, featuring runway pics, glamorous editorials, career timelines, and more.