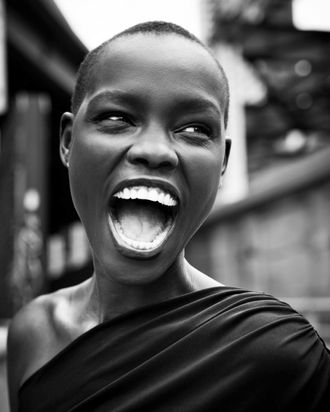 Two years ago, Sudanese-American beauty
Grace Bol moved to New York to pursue modeling after being deemed "too high fashion" by her Kansas City peers, and she hasn't left since. The 21-year-old is currently represented by Major Models and recently walked the fall 2011 Givenchy, Maison Martin Marigela, and Vivienne Westwood shows in Paris. Bol, at the time, was also on hold to shoot for the fall 2011 Givenchy campaign. We met with the statuesque five-foot-ten model last week to discuss her plans for helping Sudan in the future and her uncanny resemblance to fellow Sudanese supermodel Alek Wek.
Explore other rising stars (plus all the big names) in our extensive Model Manual, featuring runway pics, glamorous editorials, model bios, career timelines, and more.