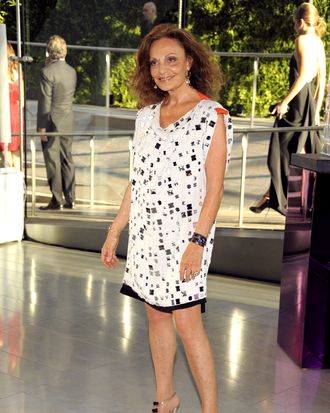 Photo: OWEN HOFFMANN/??patrickmcmullan
For the very rich, there is no season quite like summer. Fur coats are replaced with leather shorts. Manhattan is replaced by the Hamptons. And most important, limousines and party buses are replaced by yachts. Diane Von Furstenberg and Barry Diller own a particularly fabulous one, the EOS, measuring 305 feet in length, and "said to be the largest private sailing yacht in the world," according to WWD. "Barry doesn't like to have one person on the boat and we have dozens tonight," Von Furstenberg told the paper. The occasion ought to have been pretty momentous, then, and it was: The designer was partying with 85 friends to celebrate the birth of her first fragrance.

During the two-hour cruise, barefoot guests (no shoes allowed on EOS — Manolos and maritime don't mix) sipped champagne, Sancerre and soda and sailed near the Statue of Liberty, as the couple's dog Shannon patrolled, looking for table scraps.