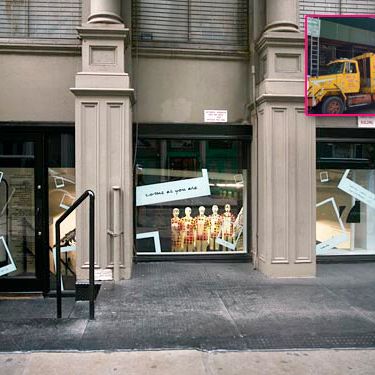 The old Seven with a pink-bordered inset of what the exterior looks like today.
Photo: Konstantin Sergeyev
Seven New York is one of the coolest, best-curated boutiques in the city. It doesn't sell clothes, it sells fashion, and only fashion — pieces by designers like Rick Owens, Gareth Pugh, and David Koma — which is a rare and difficult thing to do successfully. The store has seen its foot traffic plummet tragically from about 40 customers a day to about ten since scaffolding and barricades erected for a neighboring building's renovations obstructed the store almost entirely. Store founder Steve Sang told the Times that, with sales more than halved from prerecession numbers, the store would not survive another six months if things don't improve. Sang, who spoke to the paper with tears in his eyes, said he had to raise $7,000 from friends to pay a bill owed to Raf Simons. Unable to afford new merchandise, he hopes the money will help him obtain a new shipment from the label; many labels have stopped shipping to Seven, while a few were willing to send things over without a deposit.