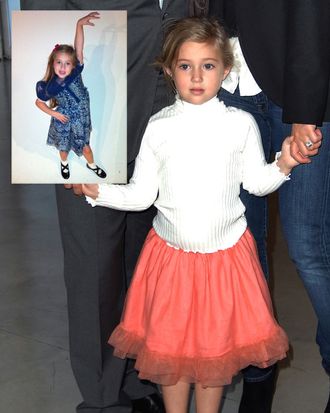 Gabrielle at a party in '08 and in the W photo studio (inset).
Do you know Gabrielle Govan? Why, she's 6 years old! A brief dossier on her fabulous life:
Travel: This bi-coastal jet-setter recently visited New York from L.A. with her mom, Katherine Ross.
Food: Miss Gabrielle enjoys lunch at the Lambs Club, when she is in town.
Friends: Stefano Tonchi, W editor, among others.
Play: Not in playgrounds, obviously — this young one prefers the photo studio at the W offices.
Photo ops: In addition to appearing today on W magazine's Editor's blog, Gabrielle looks darling in a party snap on Patrick McMullan.
Poses: Gaga's signature claw hand.
Wears: Custom Rodarte; headpieces from the W fashion closet.
RODARTE'S YOUNGEST FAN [Editor's Blog/W]