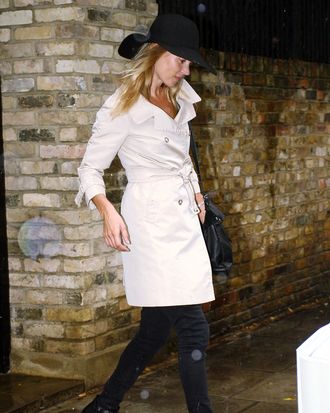 Kate Moss in London today.
Photo: Neil Mockford/2011 FilmMagic
The tents have gone up in Cotswolds near the country house of Kate Moss, whose "Mosstock" wedding begins this weekend and ends when no one falls asleep after staying up and celebrating for days. But could anything about this joyous, heartwarming occasion kill the buzz from all those endorphins? Well, would you be pissed if you went to a wedding and were forbidden from taking pictures? That story and more wedding highlights in today's Mossdump.
• Police will erect some sort of barricade around the Mosstock tents, so that Kate and her man and her famous friends can enjoy some private moments with each other and their cocktails. Guests are also being asked not to take pictures when they're at the wedding, though it's unclear if cameras will be confiscated. Yet they shouldn't be too concerned with photo leaks, because even if photos do get out, this already happened, so meh. [Daily Mail]
• Kate almost lost her engagement ring at Glastonbury. A source said, "Everyone was looking for the ring, with Kate practically hyperventilating at the side of the stage. She was screeching at her mates, begging them to get down on their hands and knees, and trawl through the mud for the sparkler" — which is obviously what Kate Moss's friends are for. Later, she found the ring in her bag, stuck to a tissue. [NZ Telegraph]