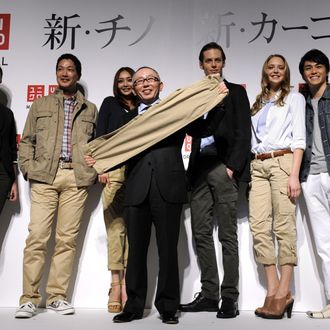 Photo: TOSHIFUMI KITAMURA/2011 AFP
In today's Times, Eric Wilson writes about all the new "multitasking" clothes on the market these days. The paper did the exact same story in December, only focusing on clothes that feature warming technology, but now there's a whole bunch of similarly dubious claims about garments that supposedly cool you off. There's also Uniqlo's new "UV Cut" shirts, which block harmful sun rays, and lots of sweat-wicking fabrics at sporting-goods stores. However, Wilson is not satisfied by the plethora of sartorial technology at his fingertips:

Personally, I'd like to see a jacket infused with an afternoon snack, or a pair of jeans that suggests clever things to say on Twitter.
Hear hear! Who needs those worthless caffeine-infused tights when someone could make legwear that serves you coffee instead?