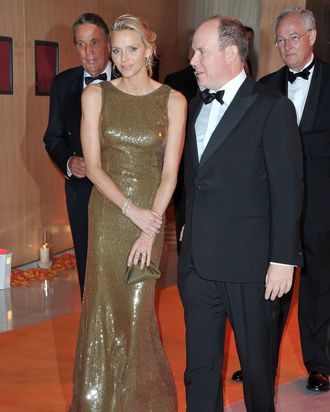 Photo: Pascal Le Segretain/2011 Getty Images
Charlene Wittstock is a beautiful, impeccably attired Olympic athlete who is about to become a princess. She is in Vogue looking athletic, elegant, and stunning. Demi Moore, Ashton Kutcher, and Harvey Weinstein attended her bachelorette party in New York. Giorgio Armani is creating the dress she will wear to walk down the aisle when she marries Prince Albert of Monaco July 2. Her to-do list, once she becomes princess, Vogue tells us, includes averting too much weight training to keep her figure slim and camera-ready, and promoting Monaco as one of the world's fashion capitals. Fun! You go! Wear those pretty dresses and do those pretty things!
But the story about the 33-year-old Wittstock in today's Times would not have you envying the future wife of Grace Kelly's son for a minute, the disparity in attractiveness and age between her and the 53-year-old Albert aside.
The Quiet Royal Wedding [NYT]
Fit For a Princess: Charlene Wittstock [Vogue.com]