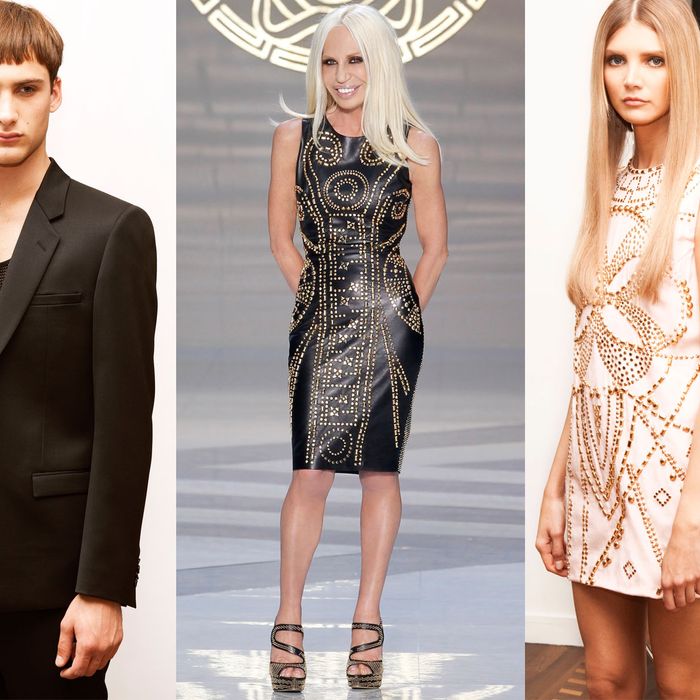 H&M is allowing us to see the looks now instead of making us wait forever and forage through magazines like People StyleWatch for them. Progress! Thank you!
Photo: http://www.hmpressrelease.com/?path=%2F%3Fp%3D2700
The highlight of the Versace men's show at Milan Men's Fashion Week yesterday was not the striped booty shorts or pink suits, it was Donatella — but isn't she always the highlight, in a way? — taking her bow at the end wearing a Versace for H&M dress. Versace is the next big-name designer doing a line for the affordable chain, even though Donatella said in 2008 that she respects designers who do these lines but didn't want to do one herself "because I work very hard to put the Versace line in the luxury section. I think to put the Versace line in H&M would confuse the brand." Perhaps to avoid confusion, H&M is billing the line as an "Iconic Collection." Goes great with whatever deal she presumably struck to have the CFDA's 2011 Fashion Icon, Lady Gaga, wear only Versace for the next couple of months.
H&M has not released any specific information on pricing, but that studded leather dress will not be H&M cheap. Versace cheap maybe, but not H&M cheap. So, who's excited? Watch Donatella and H&M's creative adviser Margareta van den Bosch discuss the collection in the video. Pretend like they didn't misspell Donatella's name Donnatella (maybe they just want a little more of her, like we all do).