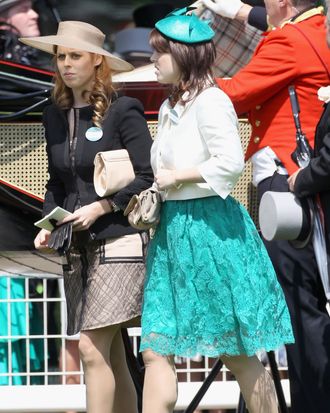 Photo: Chris Jackson/2011 Getty Images
At the first day of the Royal Ascot horse races in England, Princess Beatrice wore a demure tailored jacket over a check-print dress, kitten heels, and shockingly, a very simple wide-brimmed beige hat. Her sister, Princess Eugenie, went for a slightly bolder look — a bright teal lace Issa dress, a cropped white jacket, and a teal Philip Treacy hat to match.
Unlike Camilla Parker Bowles (who wore the exact same outfit she wore to the wedding, right down to her shoes), both princesses gave their reputation for outlandish attire a rest for the day. But really though, aren't the hats a bit of a letdown?