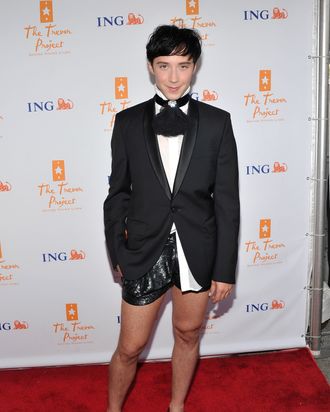 Photo: Stephen Lovekin/2011 Getty Images
Johnny Weir attended a benefit for the Trevor Project in New York last night in an outfit that gets less and less formal the farther you look down. He paired a black tuxedo jacket with a button-down white shirt (half untucked) and a Lagerfeld-esque silky necktie with an ornate silver pin. But then instead of pants, he wore a pair of shiny black hot pants and patent black formal shoes.
It's summer (for real now, it seems), and the weather is warm. So is there still such a thing as too short shorts, or is Johnny all good with this look?