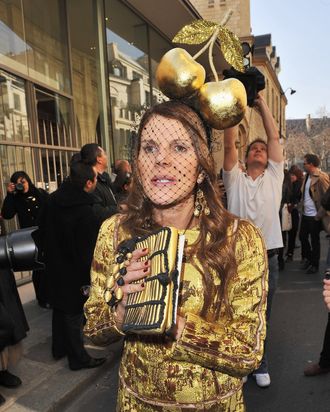 Anna Dello Russo.
Photo: Francois Durand/2011 Getty Images
Nothing is ever simple in fashion. Lady Gaga wears not a weave but "teal wigs that grow from my imagination"; it's not red, it's scarlet; they're not bananas on a shirt, they're an exhibition of Darwinian-level genius. And that cherry fascinator famously seen on Anna Dello Russo's head? Milliner Piers Atkinson, who created it, explains to W that his inspiration also ran deep:

I did a collection called "Sex on the Brain," because I love that phrase. My mum told me that, in the Victorian period, men would have beautiful paintings of nudes on the silk linings of their hats. And that's sex on the brain, literally. So I mixed that idea with 80's Athena posters of hummingbirds drinking off glossy lips and girls licking chocolate-dipped cherries and strawberries. That's where all the fruit pieces came from. And then we just did those incredible cherries. They were meant to be the silly showpiece that would be good for press and no one would buy. But I've sold hundreds of them! It changed my opinion of how fabulous women are.
With his work and Kate Middleton, maybe this decade really will usher in a return of hats that aren't obnoxious fedoras.
LONDON'S NEW MAD HATTER [Editor's Blog/W]