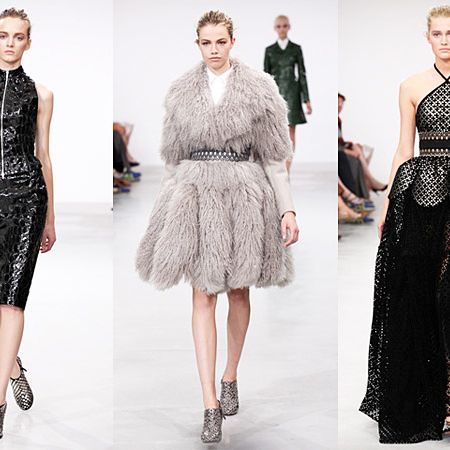 Photo: Courtesy of Azzedine Ala?a
Azzedine Alaïa put on his first show since 2003 at the very end of couture week, and everyone that was there seems to be raving over it. And, in case you thought you'd never find yourself in the position of having the same access to something fashion-related as the Vogue editors, now you do! Because they, like most average people in the world, were not at the Alaïa show with the likes of Kanye West and Donatella Versace (who says she invited herself). Alaïa reportedly banned them, and Anna Wintour reportedly banned her staff from going, according to the Telegraph.
Alaïa recently accused Wintour of having bad taste and being scary but little else. He says he has no reason to be scared of her because Vogue doesn't shoot his clothes anyway. Indeed, he and Naomi Campbell declined to partake in the Costume Institute Gala in 2009 after his work was — rudely, he felt — excluded from the exhibit.
Waiting for Alaïa [On the Runway/NYT]