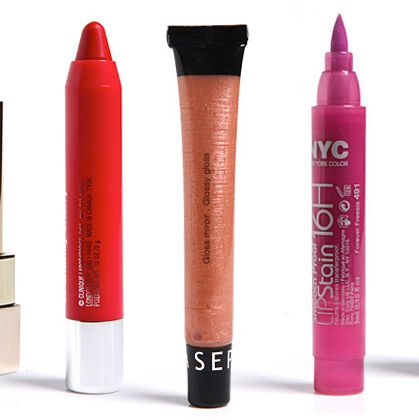 From left: Dolce & Gabbana The Lipstick in Venere, Clinique Chubby Stick in Chunk Cherry, Sephora Glossy Gloss in Maple Syrup, NYC New York Color Smooch Proof Lip Stain in Forever Freesia, and M.A.C. Lustre Lipstick in Musky Amethyst.
Venturing outside in glitter eye shadow, goth-inspired eyeliner, or striped blush led to a few mixed reactions, but the spring runways weren't only limited to outlandish looks likely to melt in summertime heat. One of the most wearable beauty trends was the multitude of lip colors on the catwalks. From bright pops of color like the hot-pink pouts at Jil Sander to the barely-there nudes at rag & bone, there were hues for the bold and bare-faced alike. We gathered up 120 of our favorite summery shades and asked a group of intrepid volunteers to sample them in our latest Shop-a-Matic. There are smudge-proof stains, moisturizing balms, and more, all guaranteed to be the easiest way to looked polished, even when it's unbearably hot and sticky out.
M.A.C. Lustre Lipstick in Musky Amethyst
Price: $15
Why We Like It: For those who are looking to buck the trend and wear darker lips in the summer, this M.A.C. hue builds in intensity: a little swipe adds a sheer purple wash and a few layers creates a deep bordeaux lip.