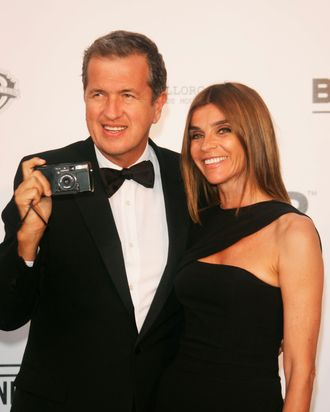 Carine Roitfeld and Mario Testino.
Photo: Pascal Le Segretain/2007 Getty Images
For her styling gig for V's September "Heroes" issue, Carine Roitfeld is doing an Elizabeth Taylor theme. There's no doubt it'll be impressive, at least in breadth, as it's going to be a whopping 72-page spread — er, "fashion extravaganza," according to WWD (it may be that she's doing separate spreads that simply add up to 72 pages, but who knows). As previously reported, she's working with Mario Testino on the project, which she's managed to squeeze in between freelance styling jobs for Chanel and Barneys, as well as "impersonating" a couture client for a forthcoming W story.
Carine Chooses Liz Taylor [WWD]
Earlier: Carine Roitfeld Asked to Style for V
Related: A Tribute to Elizabeth Taylor: Fashion Icon