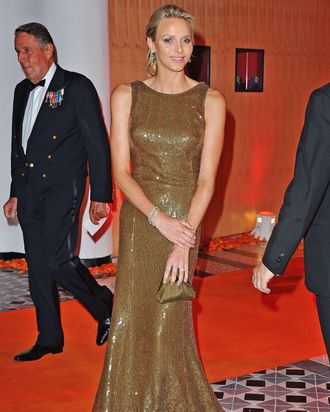 Photo: Pascal Le Segretain/2011 Getty Images
Tomorrow, Olympic swimmer Charlene Wittstock will marry Prince Albert of Monaco, in what has become known as the "other" royal wedding. Already their marriage has been saddled with predictions about Charlene's discontent, currently and in the future, as Prince Albert may or may not be faithful to her, and the palace officials give her hell as she tries to conform to their ways. She was even rumored to have gotten a serious case of cold feet and fled home to South Africa — reports the palace dismissed as a rumor born of jealousy.
But the wedding will probably be so pretty that we'll be able to forget all that unpleasantness for the next three days, which is how long the whole thing will take. The highlight will obviously be Charlene, who is beautiful, always looks impeccable if at times a little stuffy and sad, and is wearing a custom Armani dress. (So it's like any Manhattan wedding, really.)
So what will her dress look like? There's no way to know for sure until she wears it, but Charlene — who looks like she's having help with her clothes from someone — certainly has a look: She loves monochromatic, structured pieces, often a sheath dress, and often with only one shoulder. She might go for something with geometric accents, which she wears and Armani designs quite well. She will almost certainly pull her hair back and will probably have some diamonds but not so many as to look gauche like a Beverly Hills Housewife. Take a look back at Charlene's style from over the past year and get pumped for her wedding in the slideshow.