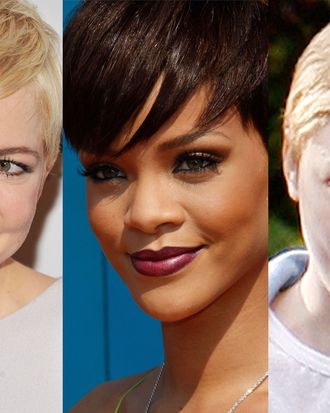 Michelle, Rihanna, Dakota.
While filming a new movie in London this week, Dakota Fanning stepped out with a brand-new boyish crop of a hairstyle. And while it's certainly a hard cut to pull off, the super-short look is not uncharted territory for the super-famous. Check out our slideshow featuring before-and-after pics of Michelle Williams, Ginnifer Goodwin, and more celebs who manage to look adorably French gamine-esque with practically no hair.
Update: So, we admit, Dakota totally had us fooled: turns out her haircut appears to be a wig. But… SHOULD it be?