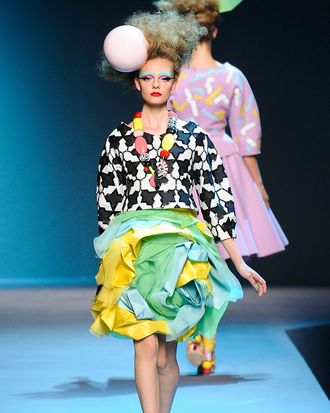 A look from the new couture collection.
Critics panned the Christian Dior cartoon couture that walked in Paris yesterday, suggesting that the house simply cannot produce a stellar couture collection without a head designer. One wonders if Dior and LVMH will try to hurry up the hire in advance of the label's ready-to-wear show, which is just about a couple months away. At the couture show — perhaps before he read the reviews this morning — Dior CEO Sidney Toledano spoke to AFP about replacing Galliano:

"You know when you ask young girls all the time when they are going to get married, they reply: When I find the right man," he told AFP as the Paris fashion house sent out its first post-Galliano haute couture collection.

Dior — crown jewel of French tycoon Bernard Arnault's global luxury goods empire — will "take all its time" in finding "a long-term solution", Toledano said, adding: "All options are open for the future."
Sounds like Bill Gaytten, Galliano's right-hand man overseeing design right now, might not be a shoo-in. Whatever happens, he has quite the temp job right now.