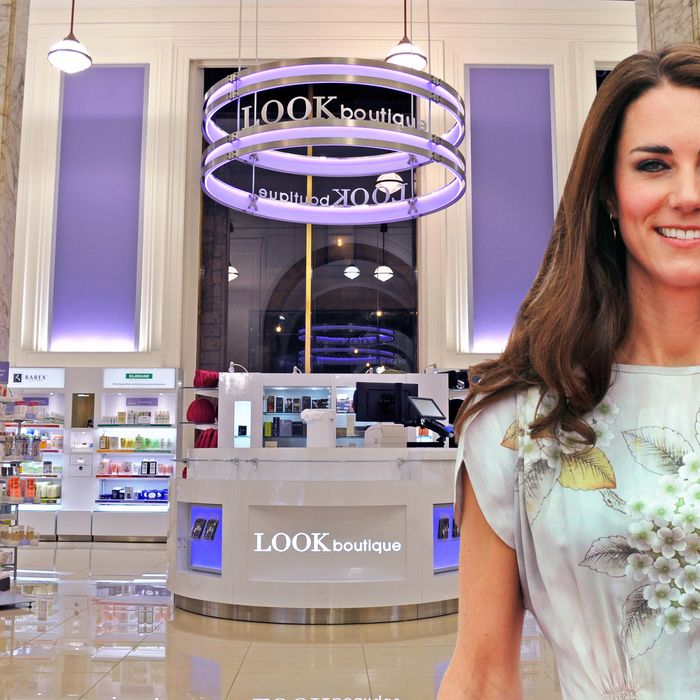 Inside the superfancy, salon-housing new Duane Reade (no, Kate Middleton wasn't really there).
The Duane Reade at 40 Wall Street hosted the chain's 50th birthday party this week. The ripe-for-marketing festivities included the chance for a lucky contest winner to win $1 million (she won $5,000), a set by D.J. Clue, and a Darryl Strawberry signing (he wasn't the first celebrity in, though — Donald Trump stopped by the opening party last week). But the most extraordinary thing about this evidently glamorous Duane Reade is not the celebrity appearances or fun contests, but the beauty-salon services you can get done there every day of the week. These include: blowouts, hair conditioning treatments, manicures, and brow threading. All services are affordable and take walk-ins. Yesterday, I went to experience the new salon firsthand to find out if the addition makes sense for the store or if it's just weird.
But the best thing about the Duane Reade experience was how lovely the staff was along with the utter lack of pretension — sort of the way Kate Middleton is, in our collective ideal versions of her. What woman hasn't decided to upgrade her beauty routine and walked into a fancy New York salon only to feel, well, like her outfit is too ass-y to belong in there in the first place? That doesn't happen at Duane Reade. And that wouldn't happen if you met Kate Middleton.